My rural countryside here in Ontario.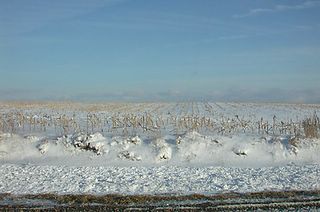 South-Western Ontario near West Lorne.
Well for the sake of understanding the environment that I live in, I thought I'd show you this image of the surrounding landscape here in South Western Ontario, Canada. This image is taken to the southwest of London near West Lorne, Ontario. This area is very flat and often reminds me of my birthplace, the Netherlands. In the spring and on grey cloudy days it shares a similar sky and skyline as Holland. While I like mountains there is something to understanding where you live particularly if you are a landscape painter, as I have been in the past. I'd recognize this winter scene anywhere in the world that it was shown me, although I will admit the American mid-west has many similarities (Iowa). I took the image while visiting a good friend and excellent artist Ed Zelenak who lives in West Lorne. This image would make an excellent painting.
__________________________________
On other news:
Blackburn 0 – 1 Arsenal
. Ugly but ultimately a sweet game for the Arsenal. Arsenal will face Blackburn in the weeks to come for the FA Cup semi-final so it was a good test as many of the starting 11 were sidelined by injuries and the youth came out to play. Kudos' to them!