Autoeroticism
Well it seems that I might not in fact be deteriorating right on schedule.
In addition to the
problems with my mouth
, the
onset of Diabetes Type Two
, I was also diagnosed with
Carpal Tunnel Syndrome
some five months ago. I was getting these weird electrical tingles in my right painting hand, sometimes intensifying at night, these tingles would develop into pure and utter pain. Jeez, with all this pain and suffering going on inside my body, you'd think
the Muse were somewhat overactive in inspiring me
, if indeed pain is the root of inspiration –
more pain more art
.
As it were, I went for my second series
Electromyography
or EMG nerve tests last week and it came back with positive results. My previous test had showed a nerve reaction time of 6.7ms, the normal being about 3.9ms., this last test came back with a 4.7ms time. My doctor Dr. Potter, a fine Scottish man who as well as myself shares an interest in playing the pipes, he playing the Highland Pipes and I the Uilleann Pipes, completely understood my concern as an artist and in particular because I use my right hand to paint. I had in fact gone into this second set of tests with an eye on having the surgery required to alleviate the pain and thus the problem. However, with these recent EMG test results it seems I have won a reprieve from the scalpel for the time being. At Dr. Potters, suggestion we have elected to wait and see what happens in the hope that there could be even better results in the following six months: something like from 4.7ms to 3.9ms.
This came as good news, though tempered by a birds-eye view into the future on how this condition could still worsen.
Please don't cut me there - unless you really have to!
Now the only damn problem is this brace, which I must wear in the evenings and while I sleep. I hate braces because of the years I was forced to wear one on my leg because of
Polio Mytelus
, which I had contracted as a baby. Oddly, when I first went to visit my family doctor, I had a strange feeling that the pains in my hand might have been a direct result of
Post Polio Syndrome
; gladly it was not. When I was a boy, I looked for every opportunity to remove the brace from my leg. If it were broken, I would get to wear my running shoes and run free through the neighbourhood instead of lugging that damn 5 pounds of steel around affixed to my body. Anyway, all of this is something that definitely deserves more writing on my part and maybe I will do just that in the days to come. As for now, I am just happy to not be cut by a knife and that there is improvement in the nerve passages of my hand so that I can paint and not feel pain. For all you moribund followers of my work,
yes there is still pain when I create but its something which must be resolved on a psychologists couch and not a surgeons table
.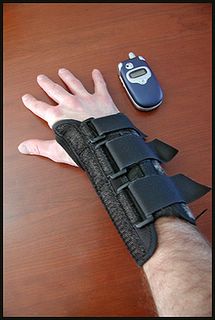 The brace I'm now forced to wear - I hate braces
(more on braces in later posts)
The absolute benefit to all this is that I can get on with the very thing, which caused the
Repetitive Stress Disorder
in the first place but we don't talk about that in polite society; or do we?