I'm a Arsenal Gooner
Well tonight at 7:45pm GMT is the big night if you live in London, UK otherwise it is 2:45pm EST if you live in London, Canada. What night might that be? It hopefully is the night that Arsenal Football Club wins their UEFA Champions League match with Munchen Bayern.
Bayern currently have the advantage after winning over Arsenal in their first game by a score of 3 to 1. Using the UEFA formula of aggregate goals, both home and away, this means that the Arsenal must beat Bayern with a score line of more than 2 goals: thus Arsenal 2 – 0 Bayern or Arsenal 3 – 1 Bayern. Personally, I am hoping for a score line of Arsenal 3 – 0 Bayern. Don't pinch me I'm not sleeping.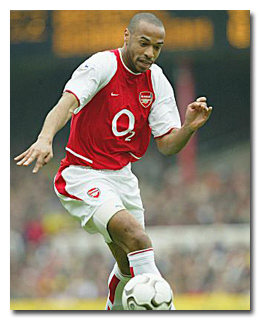 Thierry Henry #14 - Arsenal's greatest striker.
It may seem like a Sisyphean struggle for Arsenal but not one that they cannot endure and overcome, such is my confidence in the world's greatest striker
Thierry Henry
(seen above). The good news is that
Dennis Bergkamp
will play this game and with his vision of the field, provide Thierry Henry with the service needed to make goals. Overall, it will be a high tempo game and of course, with my shitey luck one game I can't see because it is just not being aired in North America. Boo Hoo it sucks to be me.
If I had the money of say another big Arsenal supporter, like
Spike Lee
, I would have jetted over to the real London last night to catch the game today – pinch me I am dreaming (the real London?).

Spike and Thierry - I'm standing behind them :)
So that's what fills my thoughts today. Not art making, nothing other than how the Arsenal will come back from a crushing defeat at the hands of Bayern and win this day, moving into the quarter finals of the UEFA Champions League. Then maybe the Arsenal will get some more luck, pull
Chelsea FC
in the ¼ final draw, and school
the evil empire
and its
hordes of Russian blood money
. Yes, good can win over evil!

New symbol of the Evil Empire Chelski FC
Therefore, I am lighting a little fire under my arse to warm me up on this cold March night because it'll be pints and pints of Bacchanalia tonight in London Town; be that the real one or the other one in Canada. Don't you just love committed fan support or should that read fans support should be committed? Fortunately, this is not an image of Arsenal fans but then again everyone loves a good BBQ although not being cooked alive on one.
So maybe
I'll just wear my Arsenal scarf
instead of the fireworks!

Yikes - the sad part of soccer, the bleedin hooligans.
Rise up Arsenal and take what is yours – go gunners go.
I am a gooner!

Other than that, how is your day?