Memories – not oh, but rather ouch the memories.
I am not much in the mood for writing much more just now.
The truth is I been spending a lot of time writing a text about how I first met
William Burroughs
as a friend some twenty-five years ago. In the event you do not know who
William Burroughs
is, I've
included these links for you
- he was an American writer who made up part of the Beatnik Movement and whose work influenced several countercultures. Bill was also a big influence in my own life and I thought it would be interesting to write my first memories of him. My text is not yet completed and thus I submit these images for you today. When I've completed the Burroughs text, I will publish it here.
Thus ouch the memories!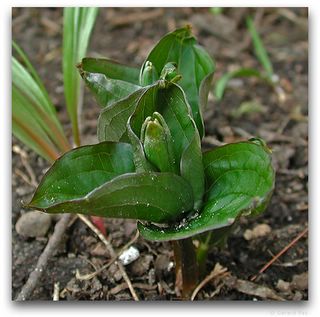 Trilliums work their way up from the warming earth.
These tender plants have raised their heads from the warming soil in the bed next to my studio. They are called Trilliums and this flower is the Provincial flower of Ontario, Canada, where London is located.
Trilliums take years to produce seeds and they are not able to survive the full exposure of the sun. Many have been killed by clear cutting of the forest over the last hundred years all throughout North Eastern North America. They were also harvested for medical uses by Native Americans and white herbalist alike, it is a wonder that any of the plants survive. As mentioned, this little cluster grows in the flowerbed next to my studio and as such receives very subdued light during the day with some sunlight in the mornings. Trilliums are herbaceous plants and come in a variety of colours; they grow in the rich woods all over this province and bloom in spring. I am fond of this little cluster, as they have thrived here for almost twenty years.


Our Magnolias are set to come into full bloom.
Our Magnolia tree has also started coming into its own with the buds swelling by the day and the top buds actually starting to bloom today. I wanted to share the stark beauty of the pink petals touching the blue sky, as it is indeed a wonderful site to see. I started this tree as a twig some twenty years ago in my front yard but it needed more love and light so I moved it to the back where it has flourished ever since. I'll be sure to show you the whole tree in bloom in the days to come.

We've had an exceptional warm spell over the last week and everything is racing forward towards full spring. Unfortunately, we have also not had much rain and are in need of it now. In fact, the last major precipitation we had was snow earlier in the month. We need some rain.