A Perfect Day
Yesterday, my wife Maria, daughter Nicole with her friend Justine and me, went for a short drive down to Lake Erie one of the Great Lakes. Three of the Great Lakes are located very close to us, easily with in a half an hour to one-hour drive from our home. The other two require a bit more of a drive but can be reached by car if we so desire.

I wanted to go and see what the state of the water was like, with winter holding on as long as it has. I wanted to see if there was still ice on the lakes and how much of it was still frozen over. As our backyard is still snow covered, I was half expecting the lake to be one huge ice-cube. I was surprised by the short drive down, as many of the farmer's fields were in fact bare of snow, although the woods and surrounding forests still had a thick coat of snow on the ground. When we arrived at Port Stanley and headed to the beach, the lake appeared before us calm and clean of ice, except for a few spots here and there where ice still clung to the coves. It was a warm but grey day as the pictures below convey. It was a stunning thing to see the sky meet the water with the shafts of yellow light breaking through the clouds in pillars before us. It was also nice to be with my daughter on such a little outing as at 14 she doesn't usually want to go on many adventures with us anymore.

What a glorious day it was then, walking on that beach. My darling wife and I walked the sand and admired the marvelous vistas opening up before us in the landscape, while my daughter and her friend did what 14-year-old girls do. Peace and serenity enveloped in the love of family and friends. A perfect day.

Sadly, there was still ice as seen in these pictures and the countryside still has ample snow. However, the signs of spring are beginning to show everywhere. You could see the snow melting and the runoff of water streaming down the fields and meadows. The rivers while not swollen were still filled to their edges with quickly moving water. The birds could be seen everywhere in the sky and along the roadside. We even saw a Red-Winged Blackbird, a Hawk, flocks of Geese migrating back North from their Southern winter habitats, many crows and gulls, but no sign of the true messenger of spring the Red-Breasted Robin.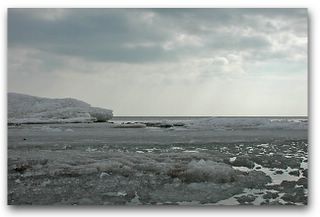 Ice on Lake Erie, Port Stanley, S.W. Ontario, Canada.
I hope these images can convey the beauty of winter as it slowly releases it's grasp on us, even if it has felt like a death grip at times. I love the melting ice and the forms it takes as the water etches its eroding mark on it. After living for several years along the ocean in both Amsterdam and New York, I truly miss the sea, when I'm away from it. The nice thing about the Great Lakes is that they are so large that you can't see across to the other side and so you truly feel as though you're by the sea, a fresh water sea. On days like this, I don't miss New York City, or Holland, or warmer climates elsewhere, I truly can appreciate the created universe in all its majesty right here before me.Truly, a perfect day.

Very, very small icebergs on Lake Erie ( did I say small).
You don't need to pinch me: when we got home the girls got in a fight and parted miserably. My son was there to harass me in assisting him with a paper for his University English Poetry class, the theme being Gardens. Diner still needed to be made and work needed to be done.
Yes, a perfect day.
__________________________
"…
Just a perfect day,
Problems all left alone,
Weekenders on our own.
It's such fun.
Just a perfect day,
You made me forget myself.
I thought I was someone else,
Someone good.
Oh it's such a perfect day,
I'm glad I spent it with you.
Oh such a perfect day,
You just keep me hanging on,
You just keep me hanging on.
You're going to reap just what you sow…"

Lou Reed
Transformer (1972)
Perfect Day