Easter's timely message
What makes a person wake up in the morning and write a confessional of their personal psychoses? Is it indeed hubris? Surely, you the reader must know that, I know that, I am not that important. Screwed up maybe but importantly screwed up most certainly not. Consider it a diary of my own turmoil in struggling with myself. Mornings really suck for me until the meds kick in.

Well, it snowed again on Wednesday leaving about 4 cm. (2 inches) of snow on the ground. Thursday, a deep day of introspection for me (as can be seen from yesterdays post), the sun came out and melted much of the freshly fallen snow away. Nevertheless, we still have an abundance of snow on the ground. I went for a walk at the Monastery of the Sisters of the Precious Blood on Wednesday. The ground was still firm with hardened snow making my walking on it easy. I walked through the grounds to assess the trees and what I saw was dormancy everywhere. Not one of the trees had any sign of spring, as there was no swelling of the buds, nothing but winter in all that I saw.

Yesterday, while walking down the drive of my home I looked down in the soil which surrounds my house and saw these tell tale signs that winter may indeed soon break its grasp over us here on the 43rd parallel (London, Ont. Can. AP 43° 2' N 81° 9' W).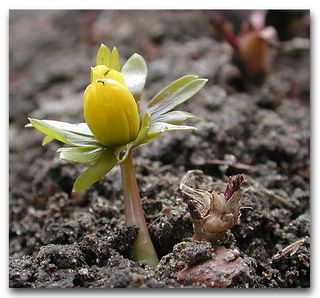 Such tender beauty in the smallest of things.
In the soil, warmed by radiating heat of my home, these delicate and beautiful tiny flowers revealed themselves to me. What a joy it was to see them. This being Good Friday, I went out and photographed them so that I could post them here. I don't think of it as coincidence that these exquisite harbingers of spring could reflect the same hope that Easter brings to me in terms of my faith. I understand completely why those with the power to decide in the past, elected to place this very special holiday in this time of rejuvenation and spring - it wasn't wasted on me.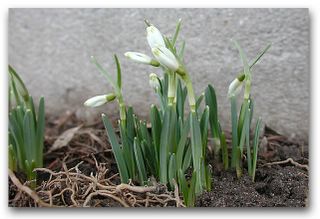 Snowbells first to pop their heads from the snow.
By way of information, I shot these images in macro-mode, thus the flowers are at a 1 to 1 ratio, they are so very tiny indeed. When I pulled back even further with the camera you can see that the snow still lays on the ground, even on this warm soil around my home.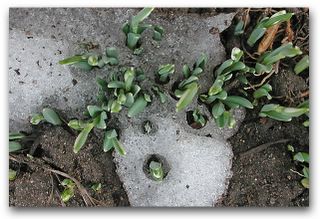 Spring works its way through winters grasp.
As for the rest of my land, it is still covered with ample snow but with the sun drawing closer to us here in the northern hemisphere, I'm certain it will disappear soon enough. Easter then suggests the obvious, that there is hope and the beauty of rejuvenation to come – truly a spiritual experience.
To God be the glory.