my dog is getting old
Well I indulged myself today. I have not much to say other than my dog is getting old and I love him dearly. He and I went out into the yard and sat under the stand of maples while I played my Penny Whistles or Tin Whistles. It was just really nice and I enjoyed playing, occasionally petting or belly rubbing my dear old dog. I think he likes Celtic music, I know I do.

These are some of the things we saw in the yard as I played a jig or two and then some slow airs.

Japanese Maple - I like the leaf against the sky or at night
it reminds me of another leaf

Trilliums our Provincial Flower in Ontario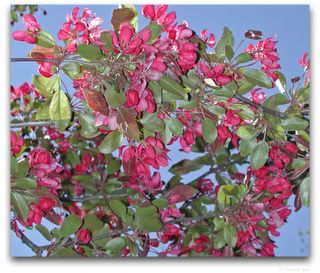 Crab Apple in Bloom
_______________________________
Well tomorrow is the big Cup Match day for my beloved Arsenal who play Manchester United for the British Football Association FA CUP in Cardiff Wales. It promises to be an exciting match and I've been thinking about for days. The match begins tomorrow at 2:00pm GMT or 10am EST and I'm going to have my Arsenal Shirt and Scarf on singing Gooner Songs all morning. My wife is going to New York for the weekend to catch a play and do some shopping; I can therefore be a soccer hooligan at home. Go you Gunners!